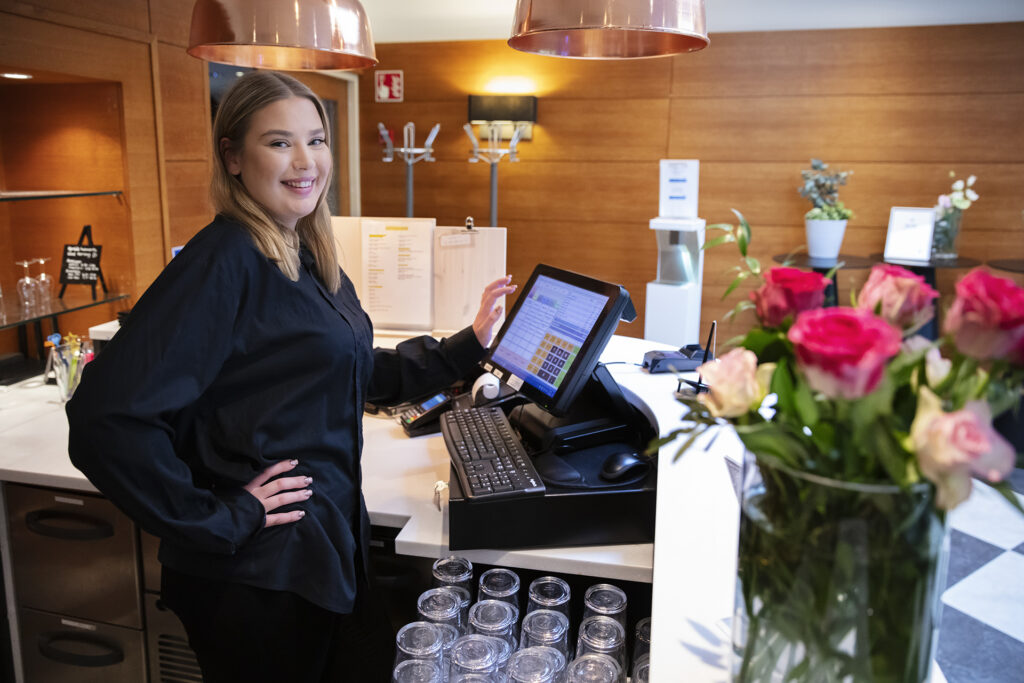 At Hotel Haaga, students pay for their lunch at self-service checkouts
At Hotel Haaga, located on the edge of Helsinki Central Park, the Winpos POS system and self-service checkouts were taken into use at the beginning of the year after the student catering of Haaga-Helia University of Applied Sciences was transferred to Hotel Haaga. 
Hotel Haaga has a long history of cooperation with educational institutions. The hotel serves as a learning environment for students in the field. Here, joint development projects are implemented and new innovations in the field are tested together with students.
Hotel Haaga has 122 rooms and meeting facilities for 240 people. The location close to nature creates good conditions for the development of wellness services. Verso Beauty teaching salon, which offers beauty care services, and Roll Outdoors, which organizes mountain bike rentals and tours, operate on the hotel's premises. Hotel guests can also use the fitness center FIT Haaga, as well as the hotel's newly renovated sauna and pool department. 
The menu of Hotel Haaga's hotel and campus restaurant always features home-made local and organic food, as well as vegetarian and light options. The food philosophy is based on Scandinavian cleanliness and freshness.- Our motto is to make the customer's day even better, says hotel manager Kimmo Hakala. 
-At the beginning of the year, we started the process of comparing POS system suppliers, because our old system was no longer able to serve us as we hoped. Winpos was selected as the winner of the tender as the best suited to our needs, says Kimmo Hakala. Hotel Haaga has two traditional checkouts in the hotel reception and restaurant. There are three self-service checkouts in the student restaurant. The hotel manager has been satisfied with the new modern solution. 
– The self-service checkouts are irreplaceable to us. A traditional checkout would bind the staff unnecessarily and the students are very used to paying at these checkouts. Around 150-200 people pay at the lunch restaurant's self-service checkouts every day. We have mainly received good feedback from our customers about the self-service checkouts. Winpos is a clear and well-functioning solution.
The staff at Hotel Haaga know that in the future, restaurant POS solutions and ordering functions will be highly automated.
– All kinds of automation are being developed today and especially in the future, says Hakala.
– Robotics and new automated payment and ordering solutions are being developed around the world for various restaurant functions. Cash is not used very much, and self-service checkouts and ordering applications are rapidly becoming more common. However, in traditional restaurants, traditional payment is still a part of the customer experience. During payment, you can ask for feedback and otherwise ensure the customer's satisfaction with an eye on the future, so everything cannot or should not be automated, says Hakala.