TOB. ORB. KD.
SIMPLICITY IN 3 STEPS.
A Kitchen Display System is a digital menu board for your kitchen staff. It acts as a traffic officer between the front of house staff and the kitchen. The system routes orders to the proper food preparation stations and alerts the front of house when the order is ready.
The interactive system organizes items, syncs the orders and can be customized to follow your kitchens flow. The kitchen staff can bump dishes to different stations or mark when they are ready. Prioritize orders with the touchscreen or bump bar. Get orders out faster and ensure delivery deadlines are met.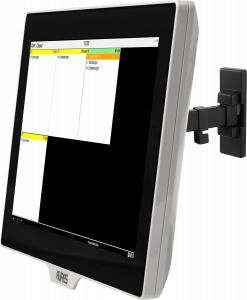 Step 1 – Order
The customer makes an order using:
Self-service kiosk
Preorder app
Waitstaff
Step 2 – Preparation
The order is sent to the kitchen and handed over to the different preparation stations KD (Kitchen Displays).
The order shows up on the customer-facing ORB (Order Ready Board) under the preparation column, and the TOB (Total Order Board) in the delivery area. The cooking staff at the preparation points mark the orders as ready using their KD.  
Step 3 – Delivery
From the preparation area, the status is sent to the TOB at the front counter. The packer/cashier keeps an eye on the TOB, uses it to update order status and packs the products in takeaway bags or places them on trays. When the order is ready the ORB changes status and the customer picks up the order or the wait staff bring the order to the customer.