Solutions for restaurants and cafes of all sizes
Need help selecting the best
system for your business?
Winpos Hospitality is reliable and ideal for our industry. Orders can be sent directly from the POS terminal to a display in the preparation area, which enables the barista to start preparing the order even before the payment transaction is finished. This speeds up the service, since the customer often wants a minute to decide what else to order, after having ordered a cup of coffee.
The Backoffice application is clear and easy to use. The report tools are very flexible. The reports are run at night and sent by e-mail. During winter months we are dealing with very large volumes, and the report has helped us predict tomorrow's demand for e.g. doughnuts and lunch. The report tool offers a variety of reports for different needs. It is definitely the best feature of the system.
The self-service checkouts help us manage larger volumes and streamline our service. The pilot has gone well, and we will be introducing self-service checkouts in our other restaurants as well.
increase kitchen efficiency.
Real-time and interactive communication between the service front and the kitchen, simplifies and speeds up service.
Success stories in the hospitality sector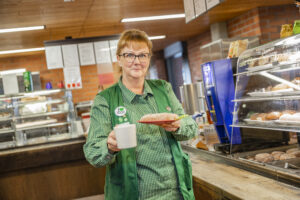 Kajaani soldier´s home pizza grill restaurant uses self-service POS solution The Kajaani soldier´s home of Kainuu Brigade has served conscripts…
Ordering, split checks and pay
Direct at the table, made easy!
We enable faster table turnarounds by allowing customers to split checks and pay with any payment method they choose at the time the check is presented.