Levi Restaurant slope restaurants use the report tools of the POS system to predict tomorrow's demand. Oy Levi Restaurants Ltd is a slopeside restaurant company owned by Levi Ski Resort. The company has eight restaurants: V'inkkari, Cafe Tanja, Horizont, Draivi, Paviljonki, Sivakka, Alpine Café and Palovartija.
The restaurants serve their customers diversely. Large quantities of food, hot chocolate and doughnuts are sold every day. The food selection is fast food-oriented: Sivakka serves hamburger meals, Draivi and Horizont serve pizza and popular chicken baskets. Restaurant Palovartija is located at the top of Levi. The building is an old fire guard hut, which is now a popular gathering spot for people enjoying the slopes. Alpine Café serves traditional home cooked food. V'inkkari's legendary After Ski starts in March or April and here the emphasis is on having fun rather than eating.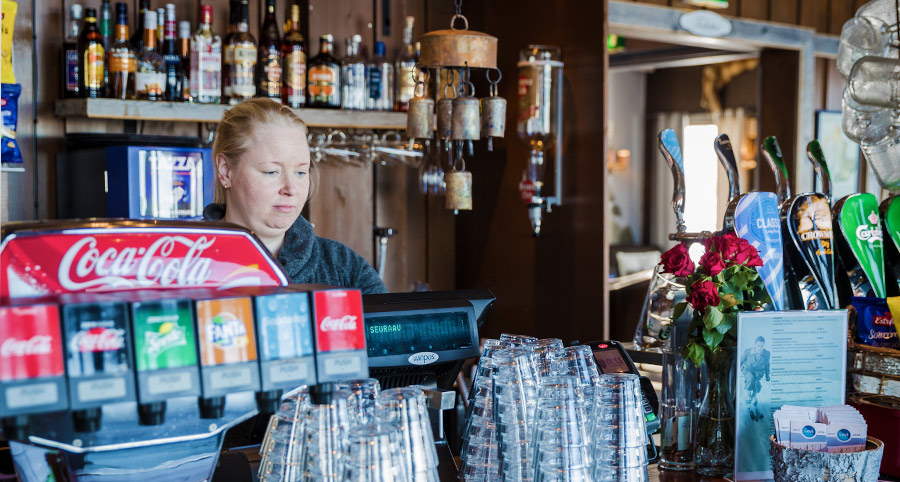 Modern POS system keeps costs in check. Levi Restaurants has been using the Winpos POS system for 4 years. – We currently have 18 POS terminals and 5 tablet POS terminals, which are used for mobile promos and temporary points of sale, says Levi Restaurants' restaurant manager Heli Lehtinen.
– Winpos is well-suited for our needs. We have been pleased with the Winpos Backoffice application and how this enables business follow-up and management, Lehtinen tells us and continues: – The Backoffice application is clear and easy to use. The report tools are very flexible. Our old system printed a big pile of papers every morning. Now the reports are run at night and sent by e-mail. I have made a food product report, which lists all products sold during the previous day. This report has clearly affected our waste and profit margins. During winter months we are dealing with very large volumes, and the report has helped us predict tomorrow's demand for e.g. doughnuts and lunch. The report tool offers a variety of reports for different needs. It is definitely the best feature of the system.
Levi is doing well. Levi and the rest of Lapland is prospering, which means that Levi Restaurants does not have many quiet days. The company has a turnover of about 4,2 million euros. The visitors come from Finland, central Europe, Norway, the UK and Russia.
– We are constantly developing the business. This summer we are opening an icecream stand in Levi Activity Park and starting a full renovation of Café Tanja.