Pikante has four lunch and on-demand restaurants as well as three cafés. The association started its operations in 1962, when the first kiosk and café of Pirkanmaa Kansanterveys ry (public health association) was opened at the newly completed Tampere Central Hospital. The aim was to raise funds for local heart and cancer associations through high-quality café and kiosk activities. Today, Pikante-ravintolat have grown into a restaurant chain with an annual turnover of EUR 6 million.
The cooperation with Winpos started in October 2020.  – As we were introducing other new concepts, we also wanted to develop more versatile payment possibilities. Winpos is at the cutting edge of payment methods, and they have both the skill and the desire to shape the program in the direction we want. Winpos' professional project managers have played an important role in the completement of the project. One of the project managers is active here in the Tampere area, says Liisa Siuvo, Restaurant Director at Pikante, and Satu Jara, the main user of the POS system.
Pikante-ravintolat have a total of 14 check-out points, 4 of which serve as self-service checkouts. For the most part, the existing POS equipment was utilized in the POS installation.
Pikante use a self-service kiosk model, where the lunch price is determined by weight. The customer collects the lunch on a plate and weighs it on a scale, which is integrated with the self-service kiosk. The information is then automatically transferred to the checkout. Payments are made by card or by using the Pivo app.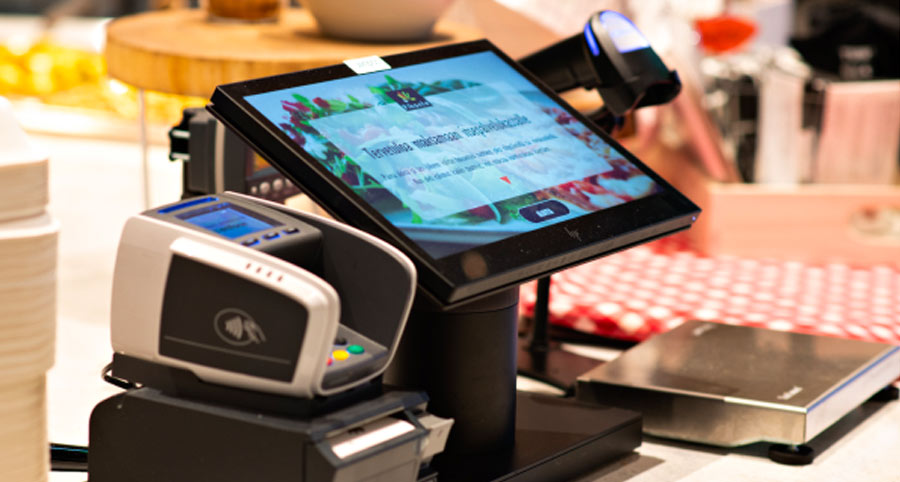 – Our clientele consists of busy hospital staff, as well as patients and their visitors. We want to provide the right kind of service for each customer group. Some come to enjoy themselves and spend some quality time. They appreciate human contact and a small chat. Others appreciate quick and smooth service." Siuvo tells us.
– A hectic operating environment also requires fast service. Self-service check-outs are a great addition. With the Pivo app, we can offer students in the area the possibility to pay using a self-service check-out.  Pivo had a ready-made system and Winpos had experience with Pivo student identification, so it was easy for us to enable Pivo authentication," Jara says.
– Self-service kiosks are well suited for regulars, as they quickly learn how to use them and appreciate the speed and ease of payment. We are happy to guide first-time users. Of course, we will also maintain traditional checkout service in all our restaurants.
– This year we are opening a new 150-seat lunch restaurant near the centre of Tampere. There we will be at the heart of our expertise: offering café, restaurant, and catering services, as well as lobby and meeting services to customers in a large office building. According to Siuvo, the new restaurant will have more than one self-service kiosk.
– Paying at a self-service kiosk in a staff restaurant often requires identification, and the development of the identification process is in progress in cooperation with Winpos.  The aim is to have at least one self-service kiosk at each restaurant in addition to the regular checkouts. The service structure is also adapted to make flexible self-service payments easy and attractive. Our goal is to develop services and concepts in all our locations. Speed, agility, and efficiency are our assets, Siuvo and Jara say.