Kaj-Erik "Nixu" Knichter is an experienced entrepreneur from Hanko. For 20 years, he has been running Restaurant Makasiini as well as a clothing store, a café and bakery. Today there are many good restaurants in Hanko, but Makasiini is still number one when it comes to food and wine.
Nixu has experience of both the intense summer season and the often too quiet and cold winter season. Nevertheless, his motivation and entrepreneurial spark remain strong.
Nixu is a third-generation Hanko resident, and eight years ago he did a fine cultural deed for Hanko when he renovated Mannerheim's old café, The House of the Four Winds, to its former glory. It is told, that Hanko and the café belonged to the few places, where you could then see the stolid Marshal Mannerheim with a smile on his lips. This is not hard to believe after having experienced the peaceful atmosphere and seen the fascinating view from the café windows.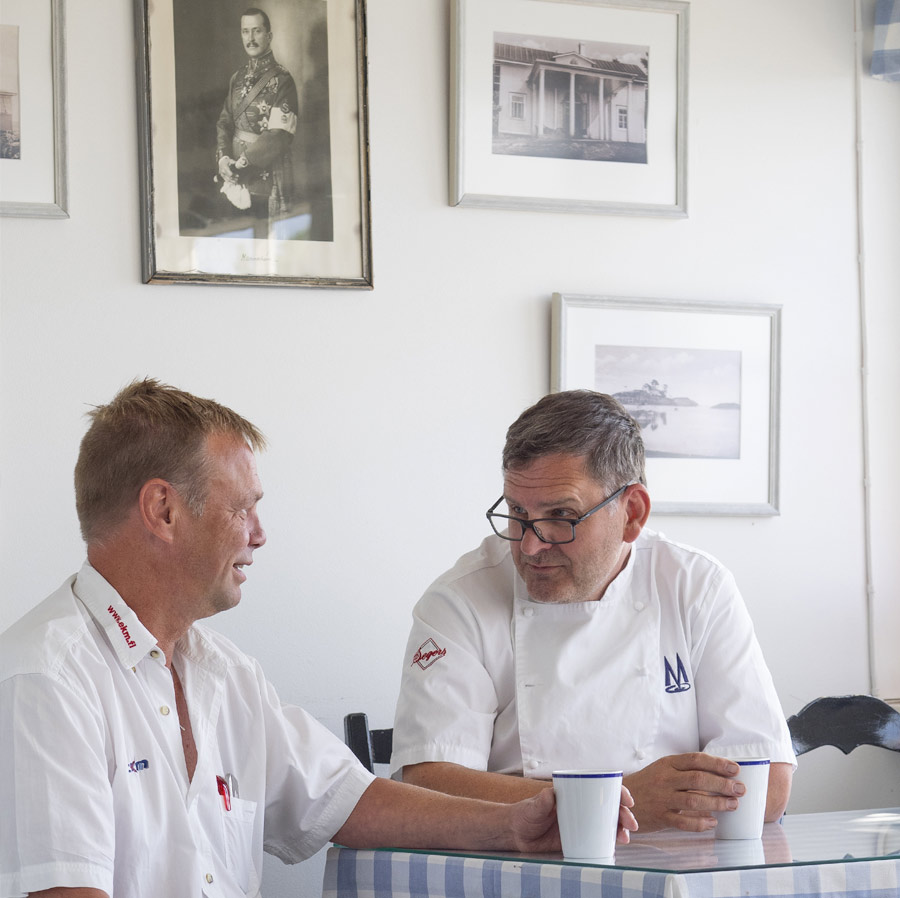 Being a restaurant owner in Hanko is challenging. Many spend the summer here but go away for the winter. It has become a bit more common for people to have a second home in Hanko, but the winter season is still difficult.
As an entrepreneur, you must be resilient and flexible especially during the busiest season, Knichter says. – It is full speed ahead for 5 weeks, as we try to collect a large part of the year's revenue. It's no easy task. Fortunately, I have been lucky with the staff. Nowadays, young people don't always work during the summer, and sometimes it can be tricky to find good staff during the summer vacation period.
Knichter has also been lucky with his current collaboration partners. Ronnie Carlsson from EKM, who is a retailer of Winpos POS systems in the Hanko and Tammisaari region, has been collaborating with Nixu ever since Makasiini was founded. EKM is a local Winpos partner and supplier and provides service also in Swedish.
– We can trust that Ronnie or someone in his staff will be here fast as lightning if any problems should occur. In fact, once lightning caused a power outage during the night, after which our POS terminals didn't work. I remember Ronnie arriving in his car within half an hour to sort out the problem, Nixu says with a laugh.
– We use the Winpos Hospitality at all 4 business locations, and we have a total of 7 points of sale. Previously, we used traditional cash registers, but at about the same time as EKM began its cooperation with Winpos, Ronnie recommended that we switch to a POS system. Knichter has been pleased with his choice. – The main benefit of the system is the reliability and all the data that is constantly available. Based on the data, we can predict the number of customers and the consumption of different products. We plan work shifts and purchases based on the reports. Not even the weather makes much difference, the calculations are mainly correct.
The bakery and clothing store continue their operations without major changes during the fall and winter season. The House of the Four Winds closes its doors for the winter on September 30 and Makasiini closes at the end of December. In 2020, Nixu hopes to be able to keep the café open until the end of December as well.