Juvenes introduced self-service checkouts at their two Oulu campus restaurants in August. As many as 2500 lunches are served daily in Restaurant Napa and Foobar. The restaurants now have seven self-service checkouts in use.
Self-service checkouts have been received enthusiastically.
– The self-service checkouts have been in use for about two months and the feedback from the students has been mainly positive, Kempas tells us and continues: – We have been monitoring utilization rates by observing the formation of queues at different checkouts and by checking the number of receipts per restaurant and POS terminal through the POS system backend system. In Restaurant Napa about 70 % of the lunch guests pay at the self-service checkouts and up to 90 % of Restaurant Foobar's lunch customers use the self-service checkouts.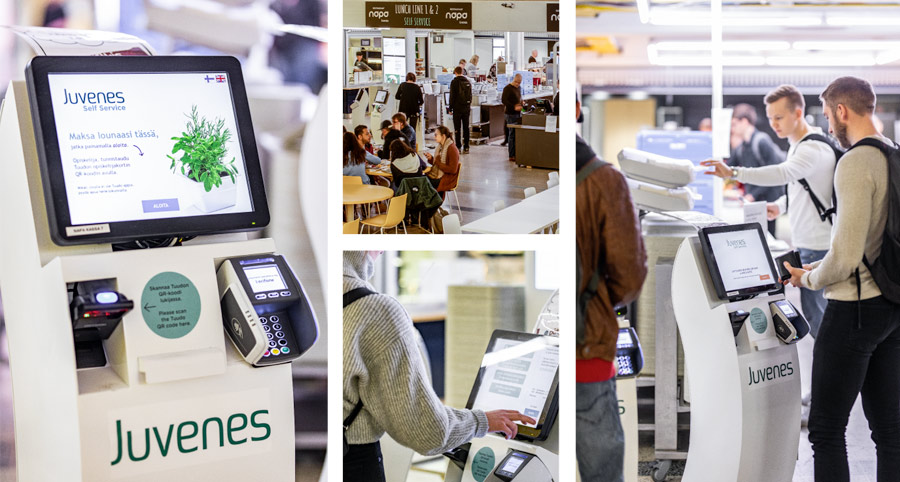 Students are identified through the Tuudo app. At the self-service checkouts, students are identified through the Tuudo app. – The collaboration between Winpos and Tuudo was excellent from both a technical and collaborative point of view, says Winpos sales manager Jouni Mäkynen. Fanni Kempas is also pleased. – The project has gone very well with both Winpos and Tuudo. Any technical challenges and needs for change have been addressed quickly.
Using the self-service checkouts is easy. The student starts the Tuudo app, scans the Tuudo QR code, chooses a lunch alternative and pays for the discounted student lunch using a card. The self-service checkouts are also available for visitors and staff, who choose the products and pay for their purchases without any separate identification.
Besides the Tuudo collaboration, Winpos has also implemented a MobilePay&Frank student identification function, which identifies the student's digital Frank student card and allows the student to pay for the discounted student lunch using the MobilePay app. – In addition to this, a mobile PIVO student card developed in collaboration with OP Pankki will be launched at the turn of the year, Mäkynen says.
Multi-channel restaurant services and payments are strongly reflected in Winpos POS system development. Kempas and Mäkynen believe, that self-service checkouts will become more common in lunch restaurants and that customer service is shifting from the checkout points to the customers. As prepayments and -orders are also becoming more common, these are the next steps for Juvenes.
Today, a restaurant can get orders from several different systems, such as Wolt. The restaurant may also have its own preorder app and self-service checkout. In addition to this, the waiters may be taking orders using so called waiter terminals. We have developed and will keep developing different order systems and order displays. As a POS system supplier our goal is to improve and speed up restaurant service and facilitate daily routines, thereby increasing our customers' sales.